Makayla Maeding '28 Recreates "Figures Dancing"
Recently, I offered my class an optional extra credit assignment and Makayla Maeding '28 had a wonderful time using her creativity to recreate, "Figures Dancing" by Keith Haring.
Makayla sent me pictures of her work. Check them out below!
Here were the directions from the assignment: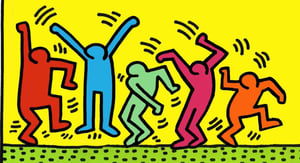 Figures Dancing with lines and angles *Extra Credit*
Use the painting, Figures Dancing by Keith Haring as your inspiration
1. Trace yourself in a "dance move" on large paper or using side walk chalk outside.
2. Fill the inside of your body with words to describe yourself - fill the SPACE!
3. Fill the outside of your body with different types of LINES and ANGLES!
4. Take a picture. Record what you did. Share with your favorite teacher! :)