Kindergarten Passports: An Adventure Around Campus!
Kindergarten students in Ms. Tran's and Mrs. Santucci's Kindergarten class started their year learning about the globe and map of the world, and after only three weeks, they are already well traveled!
To get their passports stamped, they visited important spaces across campus. From Nurse Brndjar's health room to Dr. Das's office, students traversed our beautiful Swain Campus learning about all the opportunities and expectations in their learning spaces. Other stops included Mrs. Franzyshen's office, Mrs. Mitton's office, and Mrs. Torres' office!
Before their big adventure, students learned about types of identification and information needed for a passport. They practiced writing and spelling their full names, and writing their birth date!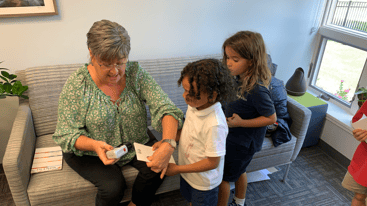 The passport activity gives these younger students an opportunity to become more familiar with the names, faces, and locations of our building. Not only does it help to build community, but it serves as a way to reduce anxiety, especially for students who are only starting their schooling this year.
The student had a fun time and love their passports, now filled with dated stamps and memories!