MA Third Grade Gets Together for Lenape Games
On January 31, 2023, third-grade students from the Downtown Campus traveled to the Swain Campus for a morning together playing Lenape games and enjoying recess and lunch.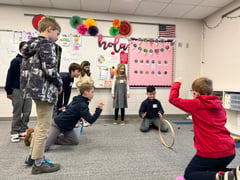 At the Swain Campus, third grade studies the Lenape people as part of their social studies curriculum. This unit includes learning about the everyday life and experiences of the Lenape people. Students spend time discovering how pre-colonization Lenape children played. Through discovery, ideas form and the students create games to play that are inspired by traditional Lenape games. Students must use found materials only and develop a strategy for playing and scoring.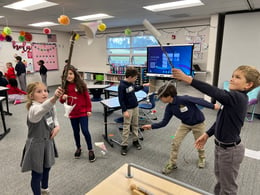 The Swain Campus thought it would be great fun to include the Downtown Campus in the games! Students played games called "Dart Game," "Moccasin Game," "Dice Game," "Jackstraws," and "Kokolesh." The Kokolesh is always a fan favorite.
After playing Lenape games, third grade enjoyed recess and lunch together. It was a great time getting to know cross-campus students and making new friends!