Middle Schoolers Present Projects at Penn State for PJAS
This past week, several middle school students presented their Pennsylvania Junior Academy of Science (PJAS) projects at the state meeting that was held at Penn State - State College.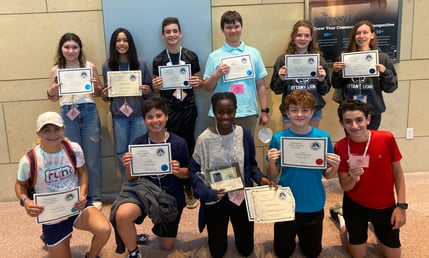 These students earned first awards at the local Region 3 meeting in February and were invited to present at the state level. As Region 3 first award recipients, they joined approximately 1,400 other first award recipients and technicians at the middle and high school levels from around the state of Pennsylvania.
They did us very proud at Penn State by earning first and second awards and also by being excellent ambassadors for Moravian Academy during their three days on campus from Sunday, May 15 to Tuesday, May 17.
Award levels are as follows. Chloee Dahl '26 attended as a room technician.
First Award, Perfect:
Murathime

Daisley

'26 (special award for excellence as well)
Julie Feliciano '26
First Awards:
Logan Hancik '26 (special award for excellence as well)

Aayona Vikram '26

Nikhil Skandan '26

Maddie Yang '27

Anika Mehta '27

Shiv Patel '26

Cole Kanuck '26

Ambrose Cole '26

Jonathan Kim '27

Emma Estrada '27

Olivia Laible-Warner '27

Toler Wreaks '27

Abbie Criscuolo '26

Justin Jankowski '26

Virgina Kraus '26

Tyler Shankweiler '26
Second Awards:
Vivian John '27

Aadi Deshmukh '26

James FitzRandolph '27

Joe Sixsmith '27
Room Technician: