Science & Humanities Stargazing & Mythology Night
6th Grade Science and Humanities bundled up, sipped on hot chocolate, and spent a chilly evening stargazing. They learned the science, the history, and the mythology of the celestial spaces only visible at night.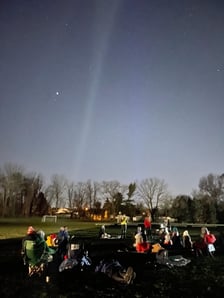 On November 23, 2021 our 6th-graders and their families joined Mrs. Mitchell and Mrs. Warnke, along with Mrs. Franzyshen and Dr. Webster, for an evening of stargazing. With hot chocolate, hand warmers, blankets, and open minds in tow, they explored the space above.
Our students and staff identified different constellation, learn the mythology and history of the figures in the sky, and patiently tried to catch a glimpse of a shooting star.
As the crowd gazed up at the constellations scattered across the night sky, Mrs. Mitchell shared her extensive knowledge of the stars by pointing out the constellations of Taurus the bull, Cygnus the swan and Pegasus, the mythical winged horse. As she pointed out the constellations representing Andromeda and her parents Cassiopia and Cetus, the crowd was treated to a retelling of the mythology behind those constellations.

Mrs. Warnke related how the vein queen Cassiopia's boast about her beauty led to devastating consequences for poor Andromeda-consequences that involves a sea monster, a rock, and chains!
The cold and brisk night closed with a lively retelling of the myth of Dionysus by guest alum Caden Sprayberry and some visiting time.