SIP Second-Graders Write to Pen Pals
Spanish Immersion second-graders have been developing new friendships and writing skills the old way... We have partnered with another second-grade Spanish class in Lancaster and both groups of children are now pen pals.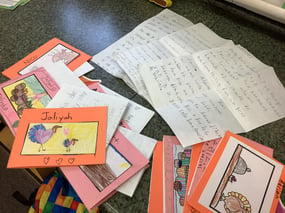 Since November, the second-graders from Locust Grove Mennonite School and our second-grade SIP students have been sending letters back and forth in Spanish. Our children get excited every time I tell them we have new letters from their pals and are eager to answer the letters back. Not only are they experiencing communication the way it was before the Internet, but also they are developing their Spanish writing skills in a fun and interesting way.
Other aspects that make pen pals a positive experience:
It teaches children to not only talk about themselves but to inquiry about the other person too.
It is a way to build empathy and form connections through common bonds.
It also shows them how to develop a friendship with children that may be from different places, customs, or interests.
Who knows ... they may find a friend that may last years!