Sixth Grade Gets Snackin'
Last week the sixth-grade class had a "business meeting" led by Ms. Carbone from the Business Office and Mrs. Turcotte.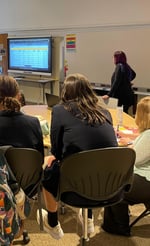 Students learned the ins and outs of running the Middle School Snack Shack, which will be their job throughout the year as real world practice of skills they are learning in math class.
At the end of the meeting, students had time to submit name suggestions for the snack store. Stay tuned to the big reveal of the chosen name!