Alumnus Reflects on Spanish Language Education at MA
Alex Battisti '14 is heading to southern California from Marfa, TX to begin an MBA program, but even now he sees the immense value of his Spanish language education at Moravian Academy.
Battisti, a third-generation MA student as well as a "lifer," was learning on campus before the Spanish Immersion Program and the post-SIP humanities courses came to life. He began studying Spanish in sixth grade and never stopped; Spanish was one of his majors at Lafayette College. Knowing how influential his language skills have been, he can't wait to see language-learning take on an even deeper cultural dimension through the humanities. Listen to his full reflection in the video below.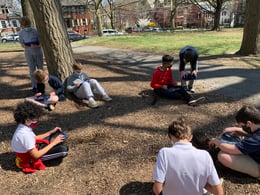 Sixth Grade PSU humanities students watched a similar video from Alex that was delivered in Spanish and are currently crafting email to him in Spanish (pictured) about what they enjoyed about his message.
Recently, our students continued reading about Caribbean and Central America, segueing from our discussion of the Panama Canal to the situation in the Suez Canal with the once stuck, Ever Given ship. This is a great example of the humanities approach to post-SIP, in that we study one thing which is expanded and connected to something outside of the classroom. Students were fascinated watching El País videos narrating the scope of the issue. We will also be exploring poetry in Spanish, with the goal of writing some poetry inspired by poets of this region. We can't wait to share more with you soon!