BINGO Night on the Swain Campus!
BINGO! On Friday September 23, 2022 the Swain Campus Family Association held Bingo Night for families, faculty, and staff!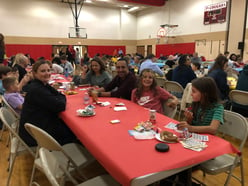 With over 150 people in attendance, faculty bingo callers, and a ton of smiles and laughter, the night was a huge success!
Thank you to all our parent volunteers, attendees, and special thank you to faculty bingo callers Abby Monahan, Kelley Stout, and Kelley Necioğlu, plus Direct of the Swain Campus, Megan Franzyshen, Associate Head of School, Armistead Webster, and Head of School, Adrianne Finley Odell!