Celebrating Winter Solstice with the Backstrom Family
The parents of EJ Backstrom '34 came in to talk about how they celebrate the Winter Solstice. It occurs on December 21.
The Winter Solstice welcomes the beginning of winter and the return of the light. (The sun starts rising a minute earlier each day and sets a minute later each day, so the daylight hours are gradually increasing.)
The first-graders enjoyed learning about Winter Solstice traditions and symbols, like mistletoe, holly, and fire. During the twelve days of Winter Solstice, EJ and his family eat dinner by candlelight. Just as many animals hibernate during the winter months, people tend to spend more time indoors. Since they enjoy reading inside, one tradition is that EJ and his sister receive books every year for the Winter Solstice.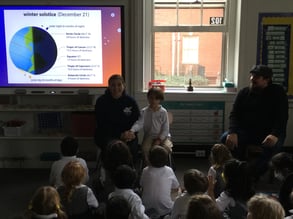 EJ described making ornaments and decorations to hang on a tree outside for animals to eat. Each first-grader took home a packet with a pine cone, vegetable shortening, and bird seed. At the end of their visit, EJ's parents served a delicious yule log cake that they made!