Fifth Grade Performs, A Year with Frog and Toad
On November 18 and 19, 2022, students in fifth grade performed the musical, "A Year with Frog and Toad."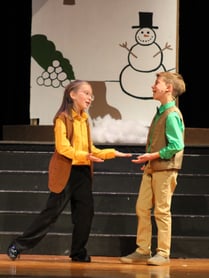 Students, faculty, staff, and community members were treated to a celebration of life and friendship as they joined the cast and crew for a charming woodland adventure!
Preston Edwards '30 and Amaya Hendrickx '30, Frog and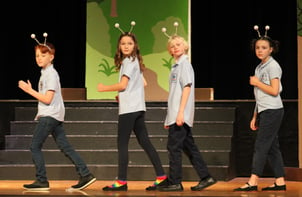 Toad, along with their leaping, crawling, and flying friends, presented an energetic, charming, and witty tale of two amphibious friends. The cast and crew hopped, sang, and danced their way through a year of adventure to bring this story life!
Cast and Crew:
Frog: Preston Edwards '30
Toad: Amaya Hendrickx '30
Birds: Ali Matic '30, Maggie Borger '30, Isla Estrada '30, Elise Neff '30, and Harper Yorgey '30
Lizard: Brianna Harding '30

Moles:

Miles Manning '30, Lucy Deyton '30, John Haight '30, Jaden Anderson '30, and Alex Romig '30
Mouse: Malika Varma '30
Snails: Jackson Wearing '30, Niamh McIntosh '30, Quintin Brown '30, and Erica Cefalu '30
Turtle: Cameron Hodavance '30
Animal Chorus: Derrick Klotz '30, Levi Hawbaker '30, Maurycy Bauza '30, Jakob Sandhu '30, and Toren Ambrose-John '30