Games and Gratitude at Moravian Village
In-person community service has resumed after a three year hiatus due to the pandemic.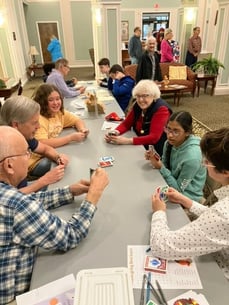 Downtown Campus sixth, seventh, and eighth-graders traveled to the Moravian Village retirement community located very close to the school. The students arrived with a variety of Thanksgiving holiday-themed activities and card games. Students also brought hand drawn table placemats and signs with Thanksgiving themes and well-wishes. The decorations adorned the tables and walls in the dining room for the special Veterans Day Luncheon that was being held. The Moravian Village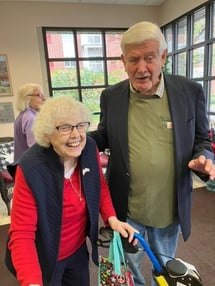 residents were so happy to have visitors and the students had a great time developing new friendships through spending time together.
Our students were also wonderfully surprised to meet and have time with Mrs. Devey and Mr. Barnaby Roberts. Both have deep and special ties to Moravian Academy and are an ingrained part of our schools community and history!