Manie Musicale de Mars 2023
Merle-Smith Campus French students participated in Manie Musicale for the fourth year in a row.
Manie Musicale is a French song competition started in 2017 by Stephanie Carbonneau and Michelle Fournier, two middle school French teachers from Maine. That year, only their two schools participated. This year, almost half a million students from over 4000 schools in 23 countries took part. "Musical Madness" is modeled after the NCAA March Madness basketball tournament with the goal of increasing student engagement in the French language, expanding their cultural knowledge, and improving their French skills using popular songs. The organizers strive to include a great variety of songs, both in terms of genre and the background of the artists. Please note that you can listen to the playlist on Youtube, Spotify, and Apple Music. Be forewarned, though, that there are several earworms!
Only two MA Merle-Smith French students (Brannagh Breslin '25 and Jo Zemsky '26) correctly predicted that "Danser avec toi,'' the 15th seed, would win it all. Felicitations also to those who earned the most points in their respective levels: Peyton Lauden '26 in French I, Jo Zemsky '26 in French II, Brannagh Breslin '25 in French III, Ginny Toso '24 in Advanced French, and Alina Gangji '23 and Nabeel Rifai '23 in AP.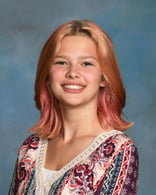 Jo Zemsky '26, who was the only one to correctly predict the two artists in the final match, was not surprisingly our overall winner.
Madame Sanborn and some of her students again contributed to the Manie Musicale effort. In addition to sharing resources with other Manie Musicale teachers, Madame Sanborn helped to screen possible songs ("Danser avec toi" was one she really fought to include!), and she was one of the commentators for the Maniaques de Musique show. More excitingly, many of her students also got to contribute to one of the episodes. You can watch that episode here. Vive la Manie Musicale!