Swain School Book Tasting: Reservations Required
Welcome to Restaurant de Bibliothèque! Our fourth grade recently secured a private tasting at one of Swain's most exclusive book restaurants.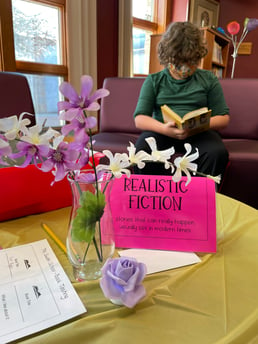 Lead by Chef de Cuisine, Nancy McClary, our fourth graders experienced a tasting unlike anything you've ever imagined.
This world class bistro specializes in realistic fiction and once a year invites VIPs only to experience a three course tasting of their best book selections.
Set in a bright and cozy atmosphere, each fourth grader tasted first chapters of each course by reading the first few paragraphs. Like the true culinary experts that they are, each student awarded a star rating for each course. These book connoisseurs only accept 5 star literature and left with their favorite book in hand.