2020-21 Sacristans & Chapel Musicians
Every Wednesday morning, a group of 8th graders arrive at Chapel early. They set up the room, manage the projector, and greet their classmates when they arrive. Their work is mostly behind the scenes, but chapel couldn't happen without them.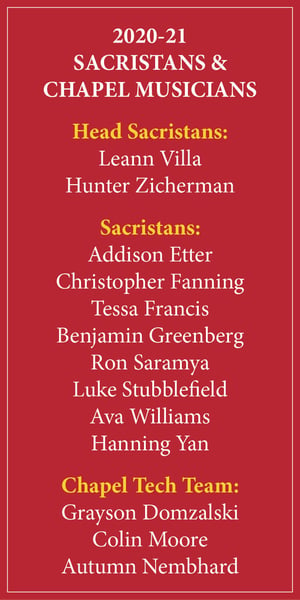 Two eighth graders are chosen each year to serve as Head Sacristans. This is a significant student leadership role. These lead Sacristans come early to Chapel each week, directing and supervising the team of Sacristans assigned that day. Head Sacristans must be comfortable giving direction to peers and overseeing their work. They are good at details, reliable, and generally flexible, with a can-do attitude and willingness to help where needed.
Serving as a Sacristan is an honor and a responsibility. Part usher, part stage-crew, part welcoming committee, Sacristans are an essential part of the behind-the-scenes energy that supports Chapel each week, and helps Lovefeasts and special services run more smoothly throughout the year.
A small team of eighth graders is chosen each year to serve as the Middle School Chapel Tech-Team. These students are responsible for managing the computer and advancing the slides. This isn't as easy as it sounds. There are a variety of speakers, different musical elements each week, plus videos and other details to keep track of. These are leaders who pay close attention, making sure we are always on the right slide at the right moment. When we have technical difficulties, they help solve the problem. They need to be calm under pressure, grasp details easily, problem-solve quickly, and follow directions well.
Congratulations to Leann, Hunter, Addison, Christopher, Tessa, Ben, Ron, Luke, Ava, Hanning, Grayson, Colin and Autumn. We look forward to your leadership in the 2020-2021 school year.