6th Grade Explores Body Systems at Body Worlds RX
On Monday, February 27, 2023, sixth grade students on the Swain Campus visited the Body Worlds RX exhibit at the Da Vinci Science Center.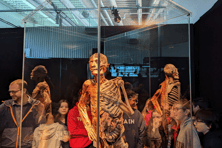 This visit was an introduction to their body systems unit and their cross curricular Anatomy of an Empire Project. Students were able to explore the human body from the inside out and see the real effects different diseases have on our bodies.