Swain Campus Fall Athletics Recap
The Fall Season has ended for athletics on the Swain Campus. During their last week of competition, student athletes from the Class of 2027 were recognized for their contributions to our athletic program and their respective fall sports team.
I am thrilled to have another Fall season of Swain Athletics completed. There has been so much growth in every single athlete thus far. The student's have gained skill sets from their sports that I have no doubt will continue to use in the future. I am proud of how they put forth their best effort every time they stepped into the gym, on the course, or on the field. I owe most of the success to our program to all players and Coaches. Thank you for making this another amazing season.
-Kaitlyn Buczynski, Swain Campus Athletic Director
The Swain Campus Soccer Team had a fun and successful season this year! Led by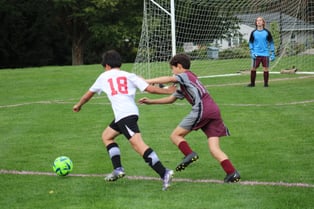 a small, but stellar group of eighth graders (Toler Wreaks '27, Charlie Crerand '27, Sam Stempert '27, and Braylon Flores '27) the team fought hard all year and finished the season with back to back wins. Every player made great strides and improvements in their skills, especially our fifth grade class who played an important role all season. Overall the team went 3-4 on the season. This year's Most Improved Player went to Derek Feliciano '28, our Rookies of the Year were Alex Romig '30, and Miles Manning '30, and our Most Valuable Player went to Joel Okune '28. Toler Wreaks '27 won the Golden Boot award for scoring the most goals and leading us to victory against an undefeated Wyndcroft team to end the year.
-Brian Lonabocker, Soccer Coach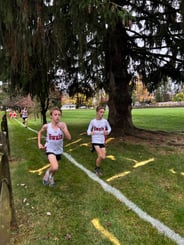 The Cross Country team had another successful season and made the Swain Campus proud. Some of our experienced runners had numerous top ten finishes in both the IMAC and PIAA meets. Additionally, Jack Garrity '28 came in first in several meets! Our team as a whole grew both physically and mentally and supported one another on the various courses in the Lehigh Valley and beyond. Although we will miss our three 8th graders next year we have a solid base for the future!
-Adrian Sauers, Cross Country Coach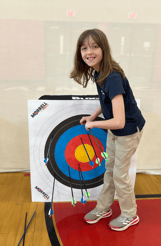 Archery has been a PE class and after school sport for over 13 years at Swain. As part of the National Archery in the Schools Program (NASP) Swain Archers have the opportunity to learn within a system that was, from its start, designed for students like them. This season's squad grabbed that opportunity and added to the tradition of personal growth that our program is founded upon.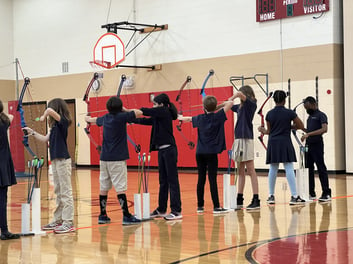 Led by our two returning 6th grade archers, Eloi Jackson '29 and Elise Koporowski '29, this plucky group of youngsters caught on to the basics very quickly. Through the first five weeks of practices, each and every archer worked to learn not just how to handle their equipment, but also learned focus, self-control, discipline, and patience. Once tournaments began in October, Swain's Archers showed their determination to get better each week. The team average jumped from 181 out of a possible 300 in our first tournament to 204 of 300 in our last. Parents, families and friends came out in impressive numbers to watch. When asked what they liked best about archery, the team listed tournaments, shooting, and scoring as their top faves. Our new archers, 5th graders, Brianna Harding '30, Levi Hawbreaker '30, Amaya Hendrickx '30, Elise Neff '30, Jakob Sandhu '30, and Malika Varma '30, and Vie Crerand '29 in 6th grade and Chiara Kramer '28 in 7th grade are now veterans who I hope will continue their archery journey for a long time. The Swain community should be very proud of their Archers!
-Jason Reed, NASP Certified Basic Archery Coach