Athletic News Update - November 22, 2019
What a way to finish our fall season! Our boys' soccer team ended their season in style by capturing the PIAA A State Championship.
The team defeated Winchester Thurston by a score of 4-1 in Hershey last Saturday. This capped off an incredible post-season state championship run as they outscored their opponents by a score 14-2. With the win in the State finals, the boys' won all three major titles this fall: a Colonial League title, a District title, and a PIAA State Championship. Thank you to all of the students, parents, faculty and staff who supported our teams during the course of the fall season!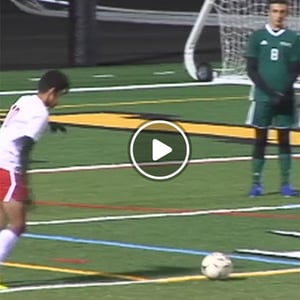 After the exciting weekend, our fall sports' teams' captains shared their experiences and reflections with our students and faculty during our fall sports celebration assembly this past Tuesday. This provided the opportunity for our team leaders to provide thoughts on their fall season.
We also took the time to celebrate five of our student-athletes (see photo above) as they signed their National Letter of Intent to continue their academic and athletic careers at the Division I level. Congratulations to the following students and their families on this wonderful accomplishment: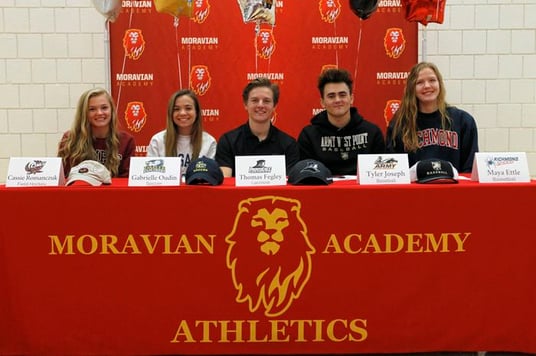 Maya Ettle '20- Women's Basketball- University of Richmond
Tom Fegley '20- Men's Lacrosse- Providence College
Tyler Joseph '20- Baseball- Army West Point
Gabrielle Oudin '20- Women's Soccer- La Salle University
Cassie Romanczuk '20- Field Hockey- Temple University (*Notre Dame HS Student)
Winter Sports Season has begun, please continue to log on to moravianathletics.org to access practice and game schedules.