Eighth Grade Engineering & Design Independent Projects
The eighth grade designers have been busy working to complete their independent projects in The Imaginate Center.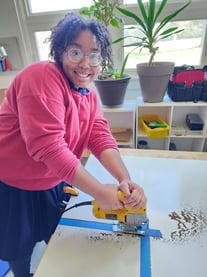 This trimester, in the Swain Campus makerspace, has been full of hands-on learning, critical thinking and safe fun! Using our digital design space and workshop, Swain Campus student leaders have created a variety of projects that highlight both their skills and interests. From push go carts, pet rabbit enclosures, to a very functional traditional boomerang, these young adults have really impressed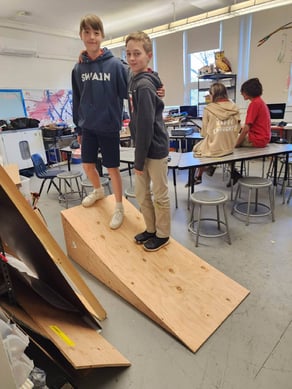 Engineering and Design teacher Mr. Sauers with their abilities.
Through the design process, our students have celebrated successes and have overcome obstacles in this fully independent pursuit. Our makerspace is truly a place of self-discovery and creates an environment where students can have fun while learning valuable lessons in project management and material/ tool understanding. These projects are the culmination of years of hard work empowering kids to do complicated tasks themselves.
Projects Include:
Glass Case:

Leland Naylor '27
Epoxy and Wood Table:

Emma Sophia Estrada '27

Push Go Cart:

Porter David Fegley '27 and Jack Robert Duerholz '27




Table Top Game:

Mirai Ambrose-John '27