Reimagining the Schoolhouse: Creative Sessions
Last week our lead architect Christine Ussler from Artefact, Inc. and I unveiled the preliminary layout and source materials for the design of our new art, library, and music wing, which will open next fall.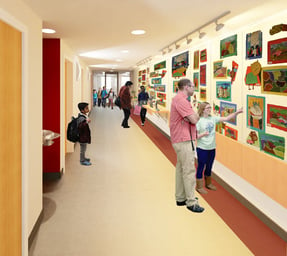 As session attendees had the opportunity to view the architect's schematic designs and read our Lower School teachers ideas for this new space, excitement and buzz in the room grew. When asked how they would reimagine learning and school, I heard parents say...
"Let's have a tech space dedicated to stop-motion videos."

"What about a growing space with lights and seeds so students can learn about farming and composting first hand?"

"I love the natural light!"

"The ability to display activities will help with collaboration and appreciation of what the students are learning. I like the direction of the design already!"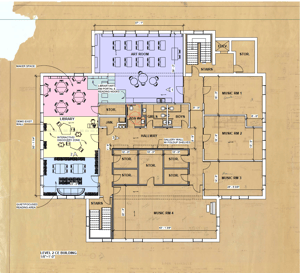 The architect's schematic designs, which are still in early stages, include a large library room at the end of the hallway, four updated music rooms with separate rooms for cello and violins, central storage for music and instruments, and an enlarged art room with room for student storage and multiple work and making areas. People remarked on the floor to ceiling glass panels to accentuate the natural light throughout the floor and the wider hallway with custom gallery features and lighting to display student artwork.
To date, we've gathered ideas from our teacher and parents, and now we need to meet with our students. Once we've heard from everyone, we will hand these ideas over to Christine and she will begin to further define the space.
Below, please find the inspirational source images, questions, and responses from Friday's reimagining session. If you have more ideas or are interested in being involved more in the future, please contact me or Bob Zaiser at school.