Swain Campus VIP Day: A Celebration of Talent, Creativity, and Collaboration
On Friday, May 12, 2023, the Swain Campus hosted its annual VIP Day, a spectacular event that showcased the remarkable talent and hard work of students in preschool - eighth grade. From captivating music performances to engaging grade-level projects, VIP Day truly embodied the spirit of our school community.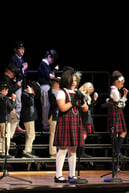 The atmosphere at VIP Day was electrifying as our talented musicians set the stage on fire with their melodious jazz performances. The Cougar Choir, Orff Ensemble, and Boys and Girls Choirs enthralled the audience with their harmonious voices and captivating arrangements. However, the most awe-inspiring performance was a special collaboration that integrated the beauty of sign language, bringing an extra dimension to the music. Special thank you to Mrs. Stout and her sister Prof. Kimberly Kuhns for teaching our first-grade performers sign language.
VIP Day also showcased the extraordinary cross-curricular projects that our students had been diligently working on throughout the year. The projects highlighted the integration of various disciplines, fostering a deeper understanding of the subjects while encouraging creativity and critical thinking.
Projects included:
The 6th-grade Anatomy of an Empire project exemplified the brilliance of humanities and science collaboration. Students explored ancient civilizations, delving into their cultural, political, and scientific achievements. The result was a captivating display that transported visitors back in time.
The 3rd-grade Wax Museum was a hit as students transformed into historical figures. Visitors were transported through time as they interacted with these living statues, gaining a newfound appreciation for the achievements and contributions of these remarkable individuals.
Not to be outdone, the 1st-grade Engineering and Design Boat Races showcased the ingenuity and problem-solving skills of our youngest learners. They put their engineering prowess to the test, designing and building boats that raced against each other in a thrilling display of creativity and teamwork.
Thank you to all the VIPs who took the time to attend. Your presence and support meant the world to our students and showcased the value you place on their education and achievements. Your involvement in our community is truly invaluable.
A special note of gratitude goes to our dedicated faculty, staff, and administration. Their unwavering commitment and tireless efforts were instrumental in bringing VIP Day to life. From coordinating performances to guiding students through their projects, their passion and dedication shone through at every step. Without their hard work and dedication, this event would not have been possible.
VIP Day on the Swain Campus of Moravian Academy was undoubtedly the highlight of the year. It was a day filled with joy, celebration and the culmination of the incredible efforts put forth by our talented students. From captivating jazz performances to cross-curricular grade-level projects, the event showcased the remarkable talent, creativity, and collaborative spirit that defines our school community.