When a Class Becomes a Family: An Open Letter from Madame Sanborn
Moravian Academy French teacher, Madame Sanborn, pens an open letter to the French students she had the privilege of teaching for three years in a row.
Mes amis,
Where do I begin?
One of the joys of teaching French at Moravian Academy on the Merle-Smith Campus is the opportunity to teach students multiple years. That said, you may well have been the first class in 23 years that I have ever taught their sophomore, junior, and senior years - three years in a row! You became like a family. You went to each other's games, performances, and celebrations; you laughed, you cried, and you locked each other out of the room, but in the end, you supported each other. That made the language acquisition process so much easier - and so much more fun!
You and I first began our journey together during that fraught Covid dual-instruction year. You were sophomores in French III, and we were all doing the best that we could. Some were on Zoom, and some were on campus wearing masks. Thankfully, you seven almost always attended class in person - in the classroom that previously was known as the Makerspace.
I remember sharing a play adaptation of "La Peste," my favorite novel of all time, with you and watching the GIMS documentary together. The seven of you became the Advanced French elective classes your junior year, when we were all back in our French room in Walter 111, still masked. We played "Ballon Rouge," an improv game in Alumni Circle, and you performed your translation of our new Mission Statement in the fall as part of the theater class.
In the spring, we talked about the French presidential election in our Current Events class and even had an online conversation about it with a couple of Parisian family friends. Your senior year started with us making French Belgian Francophone fries from the potatoes we had planted the previous spring and ended with us attending the Angèle concert together in May. We created so many memories together.
Other things that will forever make me think of you:
Le Mot - Mot monté, mes amis!
The French Exchange ("Attention!")
Petit à petit, l'oiseau fait son nid.
Singing many songs in French ("Je me tire," "Flou," "Ensemble")
French Tongue Twisters (Si mon tonton tond ton tonton, ton tonton sera tondu.)
Les Maniaques de Musique broadcasts for Manie Musicale.
Converse high-tops

Monsieur Incroyable!
Thank you for including me in your journey, for being willing to share, to play, to imagine. May you continue to see the boa constrictor digesting an elephant rather than a simple hat.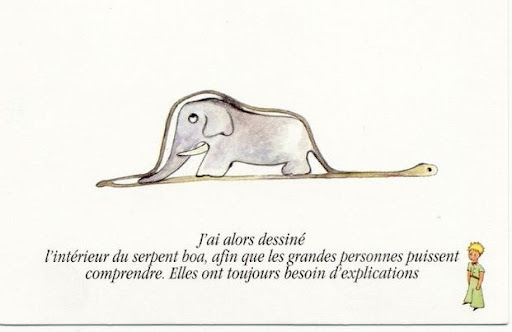 J'attendrai vos nouvelles avec impatience,
Kim Sanborn
aka Madame