Children's Author Joanna Ho Virtually Visits Downtown Campus
New York Times bestselling and award-winning author, Joanna Ho, virtually visited with Downtown Campus students.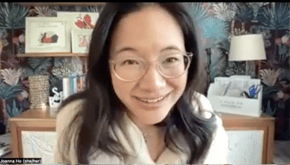 Author of Eyes That Kiss at the Corners, Eyes that Speak to the Stars, and Playing at the Border: The Story of Yo-Yo Ma, spoke about her family's background, her journey to becoming a teacher and a writer, the writing process and gathering inspiration from everyday things, and did a read aloud. Students voted on which story to read aloud, and Playing at the Border: The Story of Yo Yo Ma won!
---
Joanna Ho has received the Asian/Pacific American Award for Children's Literature Honor, a Golden Kite Award, an Ezra Jack Keats Honor, and a Golden Poppy Award.
She is a writer and educator with a passion for anti-bias, anti-racism and equity work. She holds a BA in psychology from the University of Pennsylvania, and a master's from the Principal Leadership Institute at Berkeley. She has been an English teacher, a dean, the designer of an alternative-to-prison program, a creator of educator professional development, and a high school vice principal.