Experiencing Community at Moravian Academy
Since coming to Moravian Academy this summer, I have heard again and again that one of the things that people value about our school is the great sense of community. In fact, it is a big reason why I am here too! The feeling of community is experienced differently on each campus, in both big and small ways.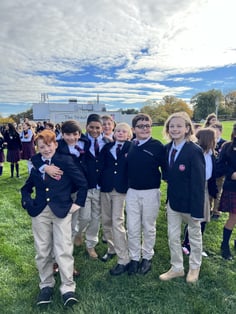 Founders Day was recently celebrated on the Swain Campus to honor the founder of Swain, D. Esther Swain. The event includes many lovely traditions that bring the community together from student performances, to ceremonial pinnings of each new member of the community, to planting of dogwood trees which were a favorite of Mrs. Swain.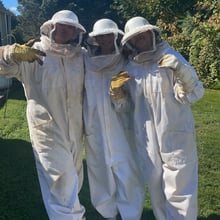 The Merle-Smith campus has been a beehive of activity, in fact all ninth grade students have the opportunity to don beekeeping suits at the apiary to learn about bees and harvesting honey. And the honey was sold at our Country Fair earlier this month, an event that brings our entire community together, with student performances, delicious food, and fun and games for the children. A misty/ rainy day could not dampen the spirits at Country Fair.
The Downtown Campus also has many ways community is felt, and one where everyone comes together in a beautiful way is also a longstanding Moravian tradition– Lovefeasts. I experienced my first Lovefeast on September 30th and one could feel the great love being expressed among students, teachers and families as they gathered in Central Moravian Church.
These are just a few examples of community building that I have experienced in a very short time at Moravian. I have also witnessed the love and trust between teacher and student in the classrooms, the bonding that happens on field trips (especially those overnights!), and the connections through team-building on the athletic fields. Our community is beautiful for its diversity, its inclusivity, the consistent demonstrations of respect and honor, and the joyful students engaging together as they learn and grow.
If there are specific examples of community building that you have experienced, I would love to hear about them as I get to know Moravian Academy even more. Drop me a line at afinleyodell@mamail.net. Better yet, share your love for the school with a friend who has school-age children and invite them to one of our upcoming Open House events. They are at 6 PM on each campus:
November 7th on the Downtown Campus

November 9th on the Merle-Smith Campus

November 14th on the Swain Campus.
And if you feel even more inspired, I encourage you to write a review on Niche.com to share more broadly. We are so grateful for your support and spreading the love about our school.
With gratitude for your partnership in support of your children,
Adrianne Finley Odell